About Us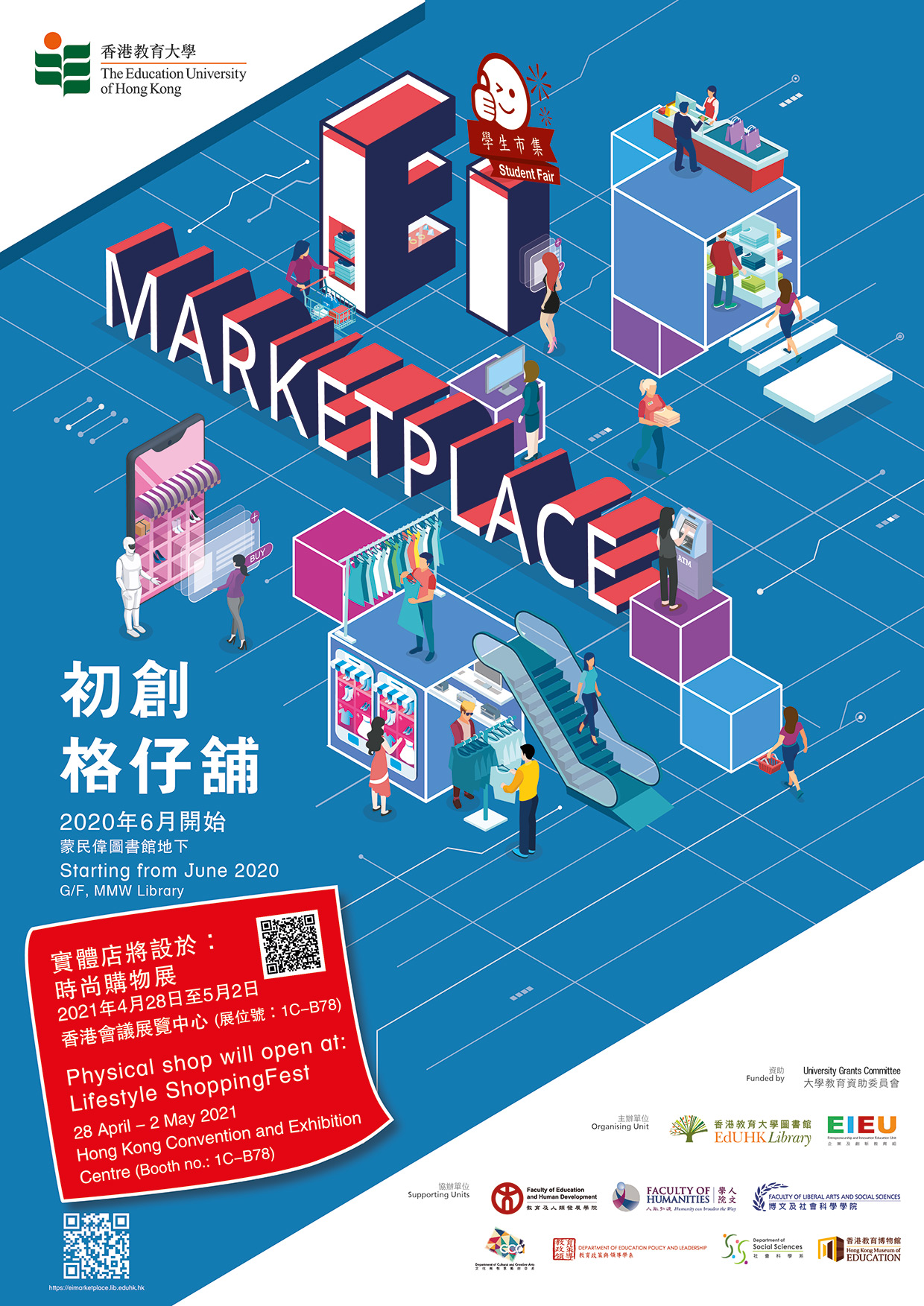 The Entrepreneurship and Innovation Education Unit (EIEU) is set up as a University-level unit under the Education University of Hong Kong Library (EdUHK Library). EIEU serves as a resource platform for nurturing entrepreneurial culture among EdUHK students and staff. It also offers students with formal and informal opportunities to learn and develop entrepreneurial skills, capabilities and mindsets in a problem-based and outcome-based setting.
"EI Marketplace 初創格仔舖" is an online-offline business consignment event organised by EIEU for EdUHK students to develop innovative and entrepreneurial spirits through actual business operation. Funded by the University Grants Committee (UGC), EI Marketplace will replace the "2020 Student Fair" (details of "2019 Student Fair" can be found here), which has been postponed to 2021 due to COVID-19 pandemic. It is a learning activity designed to nurture students' entrepreneurial spirits, such as flexibility, adaptability, innovation and resilience in adversity via running their own consignment shops. With hands-on-experience, students are expected to find out what fundamental skills they will need to get information, help and guidance, as well as technical and ethical reasoning required in the real world from an entrepreneur's perspective.
This event has started in May 2020, and is participated by 17 teams of EdUHK students. They have set up their own showcase box on EdUHK's Tai Po Campus and promote their products or services via their designated webpages on this website. They will also practice face-to-face selling in the Lifestyle ShoppingFest, a public fair organized by the Hong Kong Trade Development Council from 28 April to 2 May 2021 at the Hong Kong Exhibition and Convention Centre. You may refer to the EI Marketplace Participation Guidelines for more details of this event.
This EI Marketplace Website is an online shop for you to explore the products and services offered by our students. We hope you will enjoy visiting this online shop and thank you for your support to this learning activity.