自由星空玻璃筆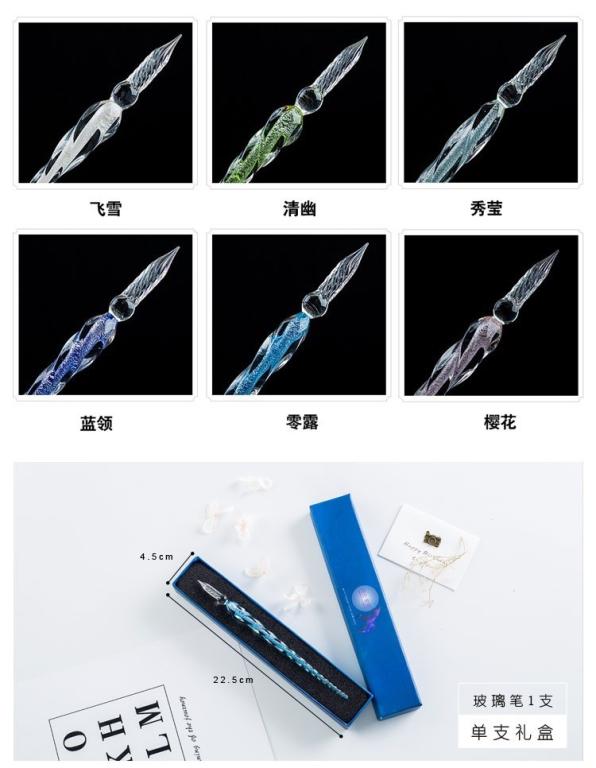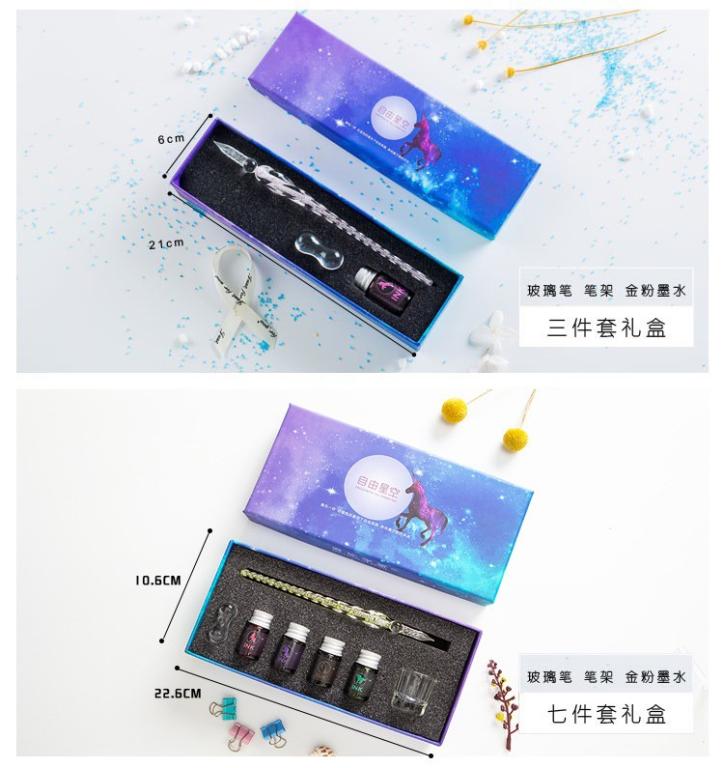 自由星空玻璃筆
HK$ 45
在「寫字」的時刻裡, 琢磨着下筆的筆劃或字句, 是復古的浪漫、 是力量的集結、 是記憶的濃縮。 · 隨著時間的推移, 你會突然明白以前的時光全部的意義。點點亮光,隨著書寫的揮動,照亮黑暗的地方。
商品名稱:自由星空玻璃筆
商品價格:三件套禮盒 45 HKD, 七件套禮盒 60 HKD
商品材質:19cm筆玻璃;紙盒+泡沫包裝;墨水顔色隨機分配
書寫粗細:0.5-0.7mm
商品特點:· 螺旋設計,可持續書寫60字左右
· 高硼硅玻璃,堅固耐用,書寫流暢,不易刮花紙張
· 金粉墨水,獨家調配
· 搭配禮盒,送禮大方得體
·多種設計,復古耐看, 多種搭配,總有一款適合你
使用貼士:1)先搖匀墨水在用潔净的筆蘸取墨水,如果混用墨水,可能發生膠體凝聚哦
2)蘸取墨水後,倒置一下,墨水回流均匀後書寫更流暢
3)使用後,及時用清水清洗,墨水乾涸後,清洗難度加倍噢
關注我們的Instagram:@unigridwu可減免5港幣 (只可使用一次該優惠,並需發送截圖證明,如閣下與到貨日前取消對@unigridwu 的IG關注,則該優惠自動失效)。

如有任何問題,歡迎通過Instagram Direct (@unigridwu),或向本店電郵(unigridwulib@gmail.com)查詢。


May you live seriously and laugh recklessly, record all the touching points which always lead you through the blind darkness.
Product Name:Star Glass Pen
Price: 3-Piece Gift Set (45 HKD), 7-Piece Gift Set (60 HKD)
Categories: A; B; C; D; E; F
Material:19cm glass pen; glass pen holder; paper box + bubble wrap; ink color randomly assigned
Writing thickness: 0.5-0.7mm
Product Features: - Spiral design, can be written in 60 words.
- Durable borosilicate glass for smooth writing and scratch-resistant paper
- Gold toner ink, special dosage
- Great Gift Boxes
-A variety of designs, vintage and durable, with a variety of combinations, there is always one that suits you.

Tips for use: 1) Shake the ink bottle before using a clean pen dipped in ink. If mixed with other ink, may occur gel coagulation!
(2) After dipping the ink, inverted, the ink flow back evenly after writing more smoothly!
3) After use, promptly wash with water, after the ink dries, the difficulty of cleaning doubles!

Also, follow our Instagram (@unigridwu) and get HK$5 off! (one-time discount, which can be used with the early bird price at the same time.)

Should you have any queries, please feel free to contact us through Instagram Direct (@unigridwu), or our official email ( unigridwulib@gmail.com ).
Not provided
Not provided
Not provided
* You agree to the
Terms of Sales
if you purchase the products from this shop.